Google has updated what they consider to be spam on your Google business profile pages.
The new list includes
Duplicate photos
Duplicate posts
Duplicate videos
Duplicate logos
Google has long been known to penalise websites for having duplicate content. When you post duplicate content on different platforms, Google sees this as an attempt to game the system and can result in a penalty. Now this policy has been extended to your Google Business Profile
In an update to the guidelines for business profiles, Google has stated that duplicate content in posts is considered spam. Profile pages that do not comply with this new guideline could be removed from Google maps and Google search.
Here is a screenshot of the new guideline from Google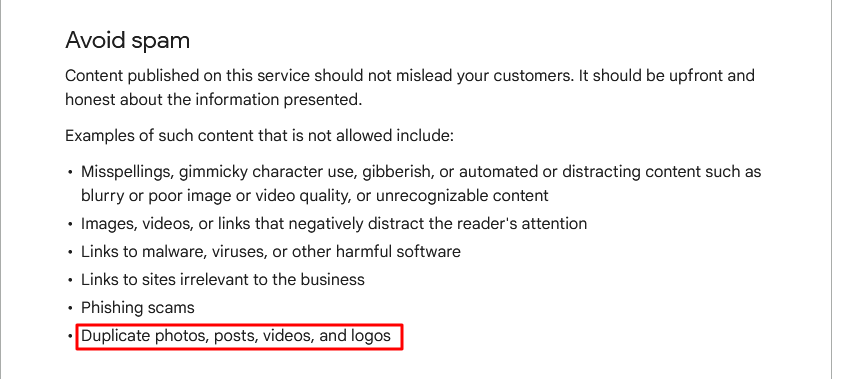 Here are some guidelines on how to avoid being penalised by Google.
No Duplicate Content In Google Business Posts
Duplicate content is no longer allowed on Google Posts, which is a clear message to businesses that they need to post unique content. If you're not careful, you could break this new rule without intending to spam. For example, if you run a Google Business Profile for a restaurant and post the same graphics weekly to advertise your specials, you might be in trouble under the new guidelines. To avoid this, be sure to create fresh content for your Google Posts on a regular basis.
Limit Your Usage of Logos
Google has been asking businesses to limit their use of logos on their Google Business Profile pages. For example, putting a logo on every photo may get you in trouble. It's advised that businesses use discretion when choosing how and where to display their logos.
So what do you need to do?
Make sure that all of your photos, videos, and posts are original content. Keep in mind that this is just a start; it's likely that Google will continue to update their list of spammy behavior, so be sure to stay vigilant and keep your business profile pages clean and up-to-date.
If you're not sure if something is a duplicate or not, check with us first. We can help make sure that your Google My Business profile page is squeaky clean and compliant with Google's latest spam guidelines. Are you ready for the next update?