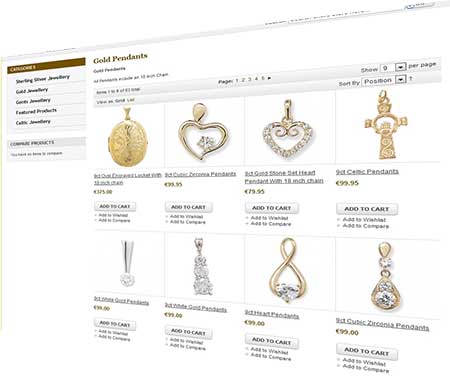 Dramatically increase your business profits by selling your products online 24 hours a day with our eCommerce website design services.
Using proven E-commerce development solutions by Nuasoft Ireland will have you trading online in no time and as an experienced ecommerce development company we can give you advice on the best ecommerce solution for you.
Our E-commerce website design solutions include:
Choice of open source shopping carts including Magento, WooCommerce and Virtuemart
Custom-made design
Customers can browse or search for the products they want.
Password-protected administration system that will allow you to set prices, edit existing products and upload new products.
Unlimited product categories
Payment processing.
You can also update your web sites content using your content management system.
Prices for this start at only € 1,250 + V.A.T. (Prices vary depending on the number of categories or products as well as the e-commerce software required.)
Why not find out more by filling in our online quotation form?
Deciding which web design company you will use to design your e-commerce website is a huge and very important decision.
You need to be said that your web design company has the skills to help you get your e-commerce website online. That they understand the marketing process and have the necessary coding skills to make adjustments to the shopping cart.
You should also make sure that your web design company are not tied to one particular shopping cart system such as Magento or will, as for example.
Nuasoft web design Ireland have a proven track record in designing e-commerce website using a variety of shopping cart systems including Magento, Virtuemart, WooCommerce and many more. We will consult you can't decide which is the best e-commerce system for your needs.
We also have the marketing skills to ensure that your business gets the traffic it needs to be a success.
Get your e-commerce web design done properly and help your business to be a success.
Contact us for help and advice on the right ecommerce web development system for you.