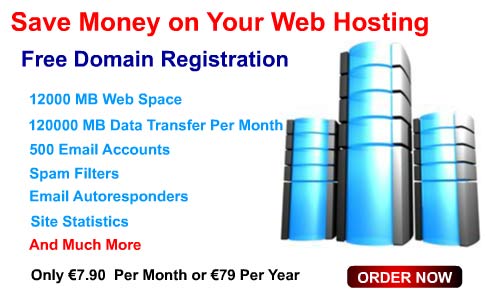 We can provide you with a home for your web site with fast friendly technical support at a price you can afford.
Some of the features of our low-cost hosting package include:
12 Gigabytes Disk Space
120 Gigabytes Bandwidth (Data Transfer)
500 Email Addresses
MySQL Database Support
Cgi-Bin
Auto Responders
E-mail technical support
And Much More
This package only costs €79 per year or € 7.90 per month*.
>> Order Now
When you host your site on our high-speed Unix servers, you know you have the expertise of a professional company ensuring that your site is online and functioning without any problems.
Service Counts
The most important part of your web space package is service.
You might be able to save a couple of cents a day if you searched long enough and decided to go with a cheap service, but if their servers are unreliable or if their technical support is slow to respond you will end up losing money through not having your site online.
We are proud of our fast personal and friendly technical support service. Which is available to all our customers 24 hours a day, seven days a week.
Our support response times are among the fastest in Ireland so you know if you have a hosting query, you won't be waiting long for an answer.
We can also transfer all your files from your old server to your new server for a small fee.
To set up your Irish web hosting account, just click here

This package is designed with the needs of the average business user in mind.
This web hosting package is ideal for most users with large or small websites with a huge traffic allowance and more disk space than you are likely to need.
Need more from your web server?
Our business hosting package can give you even more features at a low cost.
In addition to the features listed in our Lower Cost Web Hosting package you get:
Increased bandwidth
MySQL database support
More email addresses
Mailing list support
and much more.
>>Click here for More Details
Prices subject to VAT @ 23%