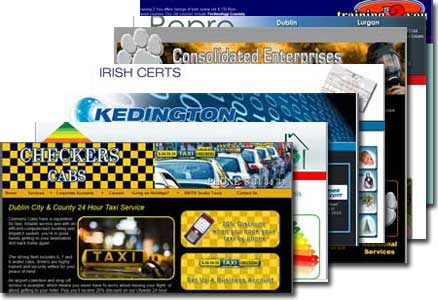 You need to project a professional business image if you want to attract new clients online.
The first impression people will get from you is your website. If your website is not professionally designed they will assume you are not a professional company.
The Small business web design package from Nuasoft Ireland will make sure that your online business image is one you can be proud of. We know that keeping web design costs down is important, that is why we developed our Small Business web design solution.
You can choose between either a bespoke website design tailor-made and designed to your exact specifications, giving you a unique one-off website projecting your business image precisely the way you want to or you can choose from thousands of web design templates and we can add your logo and content, making it look unique.
Both web designs come with a full Content Management System which will allow you to add as many pages as you like as well as edit existing pages easily and without the need to call a website designer every time you need to make the change.
Our small business web design packages are the ideal solution to your web development needs.
What's in the Small business Web Design Package?
Developed with the needs of Irish Business in mind our Irish Small Business Web Design package consists of:
Up to 30 Web Pages (Bespoke Web Design) or 15 Pages Template Based Design
Customer Contact Form,
Logo Design
Slideshow
Content Management System
Custom graphic Creation (Bespoke Web Design only)
Stock Photos and Graphics.
Submission Of Your New Site to Major Search Engines
Submission of your web site to Irish related directories
Search Engine Optimisation
We offer you a choice of a website that is designed from scratch, following an interview with you to discover exactly what you want from your website. Or you can choose from our wide range of  ready-made web designs
All our websites are designed to the highest standards but don't take our word for it, see some websites we have designed for yourself
Why not Contact Us for a free consultation on how our web solutions can help your business grow.