eCommerce Web Design
Professionally Designed Online Shops.
Do you want to start an online store?
Ecommerce-Web-Design
We're a full-service eCommerce development company. We can design and develop an online store that will sell your products 24 hours a day, 7 days a week. Our experienced team of eCommerce web designers and developers have the skills necessary to create an efficient online shopping website for any industry.
An e-commerce website can have many benefits. You don't need to worry about overhead costs like rent, utilities, or other maintenance because you don't need a physical store. An e-commerce website is cheaper and faster to get started. Besides the cost of building your website, all you need are marketing materials for it.
If you want to experiment with something new, you can do that without spending too much money or time on it since there is no cost in space. Your inventory is only limited by the size of your storage space or how much money you want to spend on shipping costs. Finally, it may be easier to reach out to new markets or consumers who don't live close enough for a visit.
You should have an e-commerce business because it is the future. By having an online website you are able to promote your company or products 24/7. You can even hire staff if needed. E-commerce companies are becoming more popular due to the benefits they offer consumers, businesses, and employees.
Dramatically increase your business profits by selling your products online 24 hours a day with our eCommerce website design services.
eCommerce Website Design
Using proven E-commerce development solutions by Nuasoft Ireland will have you trading online in no time and as an experienced eCommerce development company we can give you advice on the best eCommerce solution for you.
Integrated with the main online payment solutions.
The main payment gateways we use are PayPal, Stripe, or Worldpay depending on what you need – all three have excellent reviews in the market! If you have a preferred payment processor let us know and we can integrate it for you. Our team of developers are able to customise eCommerce websites and integrate payments with many different providers
Call us now on 04 442 8817 or click the button below for a free consultation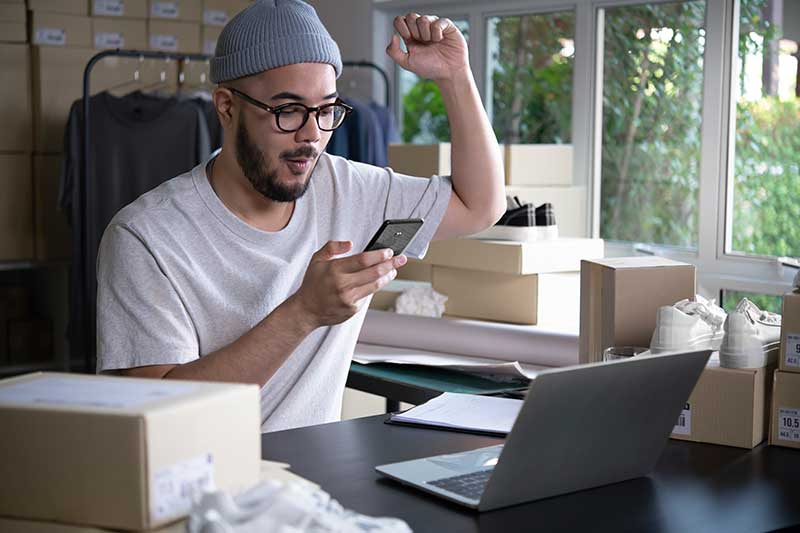 Your eCommerce Development Partners
Running a business is hard. You have to think about the products you sell, how they are made, what your customers want and then make sure that everyone has enough stock of everything.
One of the biggest problems for small businesses is eCommerce website design. It's not easy to find someone who can build an online store with all the features you require without charging a fortune or taking forever to complete the job.
We know how much time and money it takes for startups and smaller companies to get off the ground. That's why we created our affordable eCommerce web design packages so that anyone can afford great-looking websites with all their functionality included at an extremely competitive price point. Our team will work closely with you from start to finish so that you're happy with your new website every step of the way!
Every website is different, which is why we work hand-in-hand with you to create the perfect web design. Our eCommerce web design services offer a choice of open source shopping carts, so we can quickly and effortlessly create your online store.
We offer unlimited products for your convenience as well as plenty of customisation options.
You won't have any trouble marketing your items because our expert designers will provide quality service and assistance in creating a great selling space for your product. Start selling now by choosing our eCommerce web design services!
Our E-commerce website design solutions include:
Choice of open-source shopping carts including Magento, WooCommerce, Shopify and Virtuemart or:
Paid eCommerce Platforms such as Shopify
Custom-made website design
Website Logo if required.
Customers can browse or search for the products they want.
Password-protected administration system that will allow you to set prices, edit existing products and upload new products.
Unlimited product categories
Product and Photo Uploading
Initial Digital Marketing
Payment processing.
You can also update your web sites content using your content management system.
Prices for this start at only € 1,750 + V.A.T. (Prices vary depending on the number of categories or products as well as the e-commerce software required.)
Why not find out more by filling in our online quotation form?
Deciding which web design company you will use to design your e-commerce website is a huge and very important decision.
You need to be certain that your web design company has the skills to help you get your e-commerce website online. That they understand the digital marketing process and have the necessary coding skills to make adjustments to the shopping cart.
You should also make sure that your web design company are not tied to one particular shopping cart system such as Magento or Shopify, as for example.
Nuasoft web design Ireland has a proven track record in designing e-commerce websites using a variety of shopping cart systems including Magento, Virtuemart, WooCommerce, Shopify and many more. We will consult with you to help you decide which is the best e-commerce system for your needs but the general differences between the platforms are as follows:
What is Woocommerce?
WooCommerce is an e-commerce plugin for WordPress which enables you to sell anything. Beautifully. With no hassle. And all from one place: your WordPress website or blog, when you're ready.
That's why over 30 million people worldwide use WooCommerce to power their online stores – it has proved time and again that it's the best way to sell online. It's also totally freeso there are no monthly fees to pay besides for your annual web hosting and domain name fees, unlike other platforms such as Shopify which do charge a monthly fee.
What is Shopify?
Shopify is a cloud-based, multi-channel eCommerce platform designed for small and medium-sized businesses. The Shopify platform was developed with a focus on aesthetics, clarity and ease of use to empower entrepreneurs to set up their own online stores.
Please note that there is a monthly fee for using Shopify
What is Magento?
Magento is a platform for eCommerce portals that provides an affordable, user-friendly and feature-rich alternative to expensive Enterprise-class software. It offers multi-channel inventory management, credit card processing, order tracking as well as many useful features such as SEO optimization for online listing.
It can be quite complex to use and maintain but is highly recommended for very large websites.
We also have the digit marketing skills to ensure that your business gets the traffic it needs to be a success.
Reasons to Start Your Online eCommerce Website
There are many reasons to start your eCommerce Website right now. Some of the main ones include:
It is vital to your retail store's growth, opening new opportunities.
Ecommerce websites are easier to maintain than physical stores
You can reach more customers with an eCommerce website
It's cheaper and faster to get started with an eCommerce website
You don't need employees for an e-commerce website, so you save on payroll expenses
Your inventory is only limited by the size of your storage space or how much money you want to spend on shipping costs
You can have your own website that is tailored to what you sell
You'll save on overhead costs because there's no need for a physical store
You can offer products and services 24/7 and not just in business hours
Online businesses are more environmentally friendly than traditional brick-and-mortar stores
With e-commerce websites, it's easy to share product information with potential customers
It may be easier to reach out to new markets or consumers who don't live close enough for a visit
E-commerce websites have a higher conversion rate than traditional brick and mortar stores
It is easier to update prices on an e-commerce website
E-commerce websites are safer for the customer because there is no risk of Covid
You don't need a physical store location to sell products online
Your company will appear more professional with an e-commerce website
You can reach a wider market
You can sell more than just one product
If you use a Dropshipping service, there's no need for inventory, shipping, or storage
It's easier to maintain and update your website than it is to run an online store
An e-commerce website is a great way to sell products
It's easy to promote your website on social media platforms like Facebook and Twitter
You can set up an online store so that customers can purchase items 24 hours a day, 7 days a week
You'll have more control over the content that's displayed on your site because you're not limited by what vendors put into their own sites
Your customer base will grow as people share links to your website with others who are interested in buying from you
If you're looking for ways to increase sales, an e-commerce website could be the answer!
Hiring an e-commerce web designer?
You're a small business owner and you don't want to miss out on the opportunity of having your own e-commerce website.
The internet is full of people looking for products like yours, but they can't find them because you don't have an online store.
Hiring a professional e-commerce website designer will help you get your website up and running in no time! With our team's expertise, we'll make sure that your ecommerce store is designed with conversion optimisation in mind so that it not only looks great but also converts visitors into customers. We know how important it is to be able to offer products 24/7, which is why we'll work closely with you to ensure that your site is built to be mobile responsive and work perfectly on whatever device your customers are viewing it on. It's not just about creating a stunning site, we're making sure that you're getting the full value out of having an online store!
Let us help you. Our web Designers have the skills and expertise to build your site from scratch or update your existing one. No matter what stage of development you're at, we can help!
Contact us now for a free consultation with our team of experts!
Get your e-commerce web design done properly and help your business to be a success.
Contact us for help and advice on the right eCommerce web development system for you.