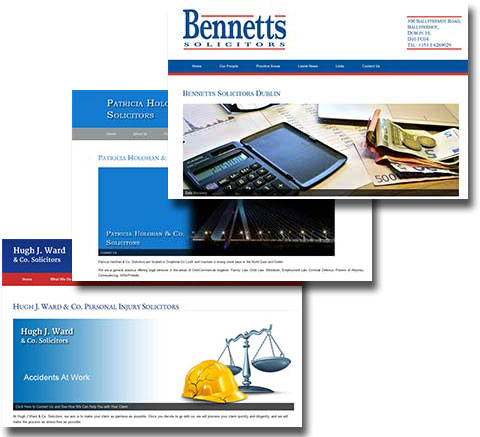 Nua Soft Web Design Ireland are specialists in website design, Internet marketing and SEO for lawyers and Solicitors and have been creating legal websites since 2001.
Our Goal is to help solicitors find the best ways to market and run their Internet presence so that they can concentrate on their business leaving the website to us.
In addition to designing a highly professional website that will display beautifully on mobile phones, tablets and computers we can also market your site getting it to the first page of Google.
We have web design packages to suit every budget from our bespoke web design service which give you a bespoke customised website that is mobile friendly with a high degree of search engine optimisation included.
For solicitors firms with a smaller budget our small business web design package will be ideal for you. It gives you a highly professional web presence that is mobile friendly with on page search engine optimisation
→ Find Out More About Our Bespoke Web Design Services
→ Find Out More About Our Small Business Web Design Services
More Than A Solicitors Website Design Service.
We Want to Be Your Partner In Internet Marketing
Website design is just the beginning of how we help solicitors firms throughout Ireland. After your website has been designed, we would love to become your marketing partner. We can assist solicitors find new clients customers online, help with their social media presence and search engine optimisation.
We have had great success in attaining a high search engine ranking for Solicitors Firms throughout Ireland. Contact us to find out more
→ Find Out More About Our Search Engine Optimisation Services