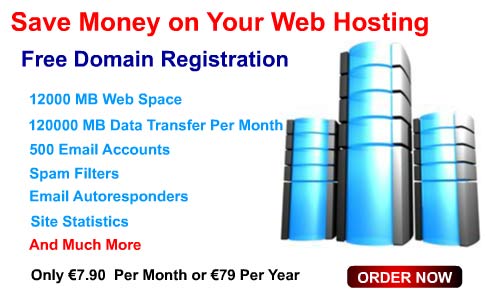 Our low cost web hosting plan can provide you with a professional webspace
solution at a price you can afford.
This package is aimed at small business sites, clients who are
starting their online presence or customers who need professional
server features at a low price.
Low Price
Priced at only € 79* per year or € 7.90* per month, the low
cost hosting package from Nuasoft Ireland provides you with the
features you would expect in more expensive plans.
Prices subject to VAT @ 23%
No Credit Card Needed
If you are based in Ireland no credit card is needed to open your
account as we can set up your account and invoice you
for the amount.
Non Irish web hosting accounts are also accepted via credit card
payment.
Our Low Cost Web Hosting package includes:
12000 MB Disk Space

12 Gigabytes Bandwidth Per month
Spam Filters
Detailed Site Statistics

You can use AwStats, Webalizer or raw access logs

500 POP 3 Email accounts (you@yourcompany.com)More available on request if required
Unlimited Email Forwarders Foward your mail to a different account
Unlimited Autoresponders Send an automatic reply to each mail you receive
CGI BinAllows you to run perl scripts such as contact forms etc.
PHP SupportAllows you to use this powerful scripting language
Fast Friendly Technical Support Our support technicians are available via our website 24 hours
a day
Unlimited FTP access Upload files as often as you like, any time day or night
Free Control Panel View visitor statistics, set up your email accounts, spam filters and much more.
Catch All email addressAll unrouted mail is automatically sent to your catch all
account
Easily UpgradeableIf at a later stage you decide you need more bandwidth, database
support or more disk space, we can upgrade your account immediately
Need more information?
We have a more detailed explination ofwhat
these Terms Mean here
Or if you have a question about any of the services we offer plase contact us and we will give you a fast
speedy response to your enquiry.